---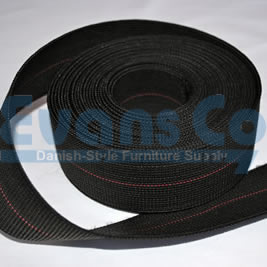 Details:

Poly Upholstery Webbing is elastic, coated in nylon for durability and longevity. It is 2" wide and is sold by the foot here or included in a Furniture Pack. It is slightly less stretchy than a pure rubber strap, so when measuring, only account for up to two inches of stretch max, although we recommend accounting for 1" stretch.
Is Poly Webbing right for me?
Instructions:

To measure, follow path of old webbing. If you have 45-degree slots, cut webbing 1" shorter than the slot-to-slot distance. If you have 90-degree slots, cut the webbing to the slot-to-slot distance, or slightly less. Secure with Evans Clips

Patented

, 90-Degree Angle Metal Grips, or if your furniture does not have slots, use heavy-duty staples or nails (do not use furniture tacks as they will pop out with pressure). When custom-ordering webbing and clips/grips separately, select the total feet of webbing needed, as well as the total number of clips (two per strap). We recommend assembling one strap (i.e., attaching clips/grips to a length of webbing) first, insert it into your seat frame, and use it as a template for the remaining straps. This will allow you to make any adjustments to the length per your personal preferences.