Testimonials
"I have a Z Chair that I bought online a while back. The previous owner unfortunately used a staple gun to attach the straps instead of new buckles. I pulled the staples out and applied the new straps per your instructions and it looks and feels amazing! I opted to cut the straps 3/4" short of the distance between the slats instead of the 1/2" recommended for a slightly firmer feel. Fyi, I found you through the ad in Atomic Ranch. Thanks again."
--Chris B.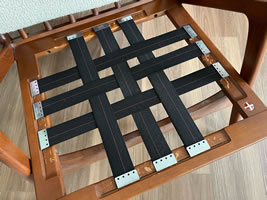 ---
"New application: We have a near complete set of Z-chairs and accessories. One of the ottomans used webbing held in place with a loop on both ends and a wood rod that was inserted into the loop along a groove on the back side. It is difficult to create new loops with new webbing, however. So I looked closely at your clips, and found that if the tab is bent back a bit more than 90 degrees, it fits the edge of the groove on the back side. Voila! Evans Clipspatented solved the problem. I would bet that many Z Chair owners face a similar dilemma."
--Mark H.
Image 1: Evans ClipPatented with the flaps bent back > 90-degrees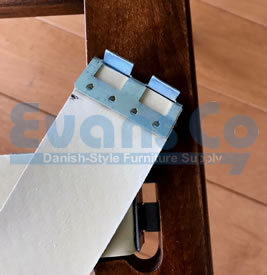 Image 2: View from the bottom, showing the position of the Evans ClipPatented and bent-back flaps in the channel for the wooden dowel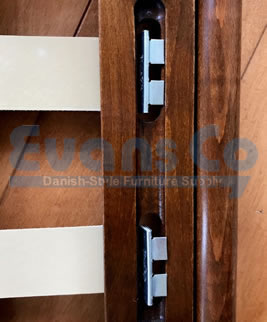 Image 3: Z-Chair ottoman from the top, showing the new straps with Evans ClipsPatented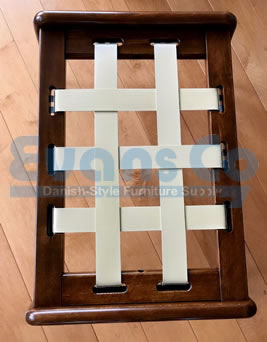 ---
"Thank you for your assistance in helping us repair our chairs."
--Darryl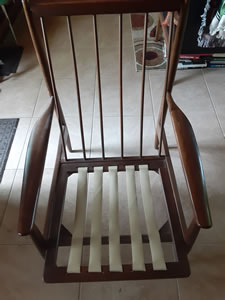 1st chair with sad sagging webbing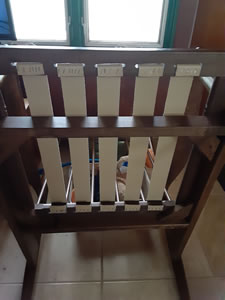 Fastened new webbing to seat frame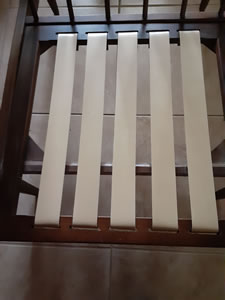 New tight webbing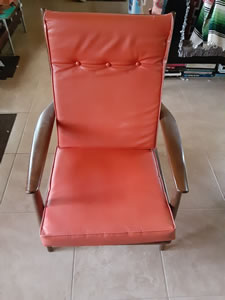 Finished chair!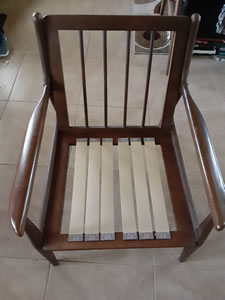 2nd chair with new 45-degree angle Evans Clips and webbing
---
"My name is Darryl and I wanted to let you know that during the stay at home pandemic we used your EvansClips and Webbing straps to repair one of our Mid Century chairs. Ordering was easy, you shipped quickly and once reading thru the directions it took us under 10 min to make the chair useable again. Now to repair our other chair!"
--Darryl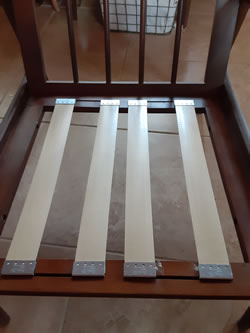 ---
"Couldn't have done this without the Evans Co. The chair will now live on for another 50 years. Thanks again!"
--Bob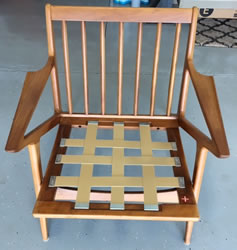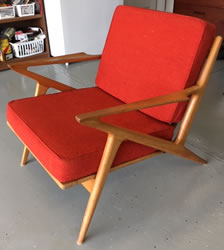 ---
"Thank you so much Evans Company! We found this original DUX mid century chair in the TRASH and repaired it using your website thanks! It worked out great!"
--Lauren, Hawaii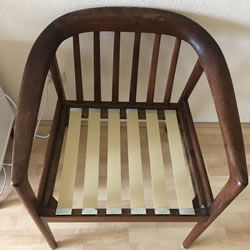 ---
"I successfully replaced my old loop straps following your instructions and the process was surprisingly easy. Thank you."
--Chris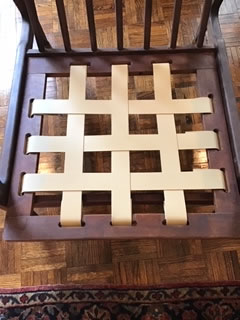 ---
"I received my Evans clips and Premium webbing today and within minutes replaced the seat on this Mid Century Tell City chair I purchased for my daughter in law! You have a fantastic product that I will recommend and will definitely use again! Thank you for helping me take this from a plywood seat back to it's original state!"
--Pamela C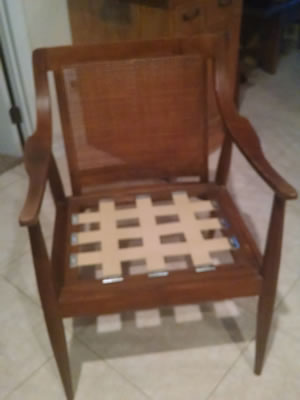 ---
Dear Evans Company,
"I just had to write to thank you for your fantastic products. My mother found me a beautiful Selig Z chair and an Ib Kofed Larsen for Selig lounge chair in matching upholstery (she helped her neighbors with their mother's estate, and they gave her the chairs for free to thank her!)...the only issue was that at some point in the past, the original owners replaced the straps with cheap poly webbing which they screwed into one chair (😰) and tacked into the other. Every time I sat in the chairs I was nervous they'd break or the wood frames would get damaged (the one they had used screws on had some splitting).
I am so glad I found your company and products (thanks to your ad in Atomic Ranch). I received my order of Evans Clips and the Premium Webbing so quickly and my husband and I were able to replace the straps on both chairs in less than a half hour. It was so easy. The chairs are much more comfortable now that they have non-saggy straps and I can sit easily knowing the straps are not going to pull out or break. The clips also nicely hide the damage from the screws. Perfection!"
Thank you again and warm regards,
--Lauren T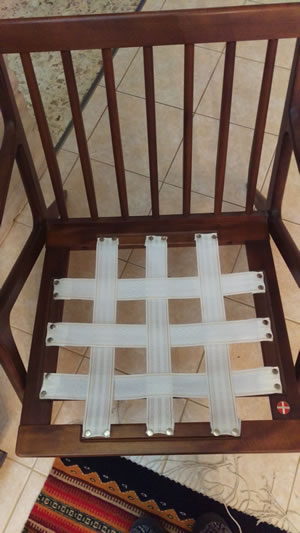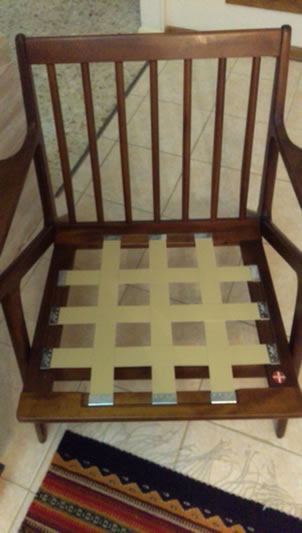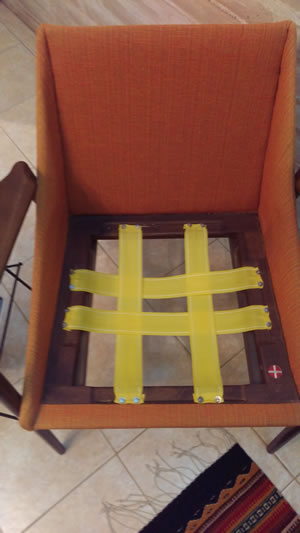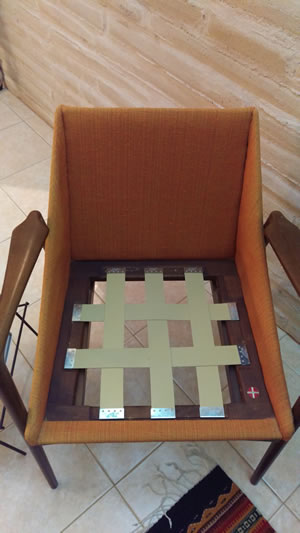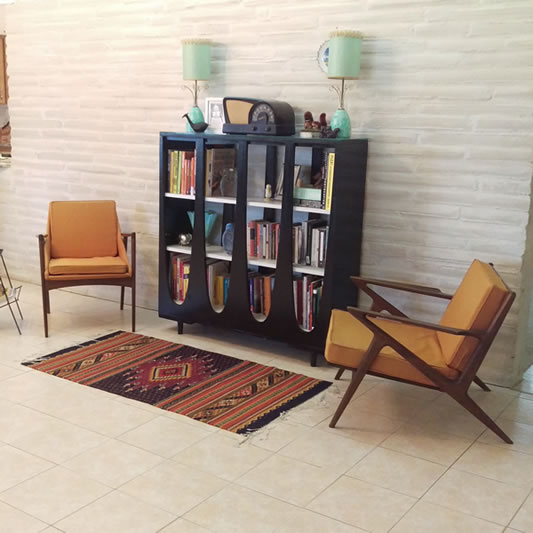 ---
"Because the chair for which I'm replacing fagas has different measurements for the horizontal straps due to wider measure in front, narrow in back, I think your Evans Clips are ideally suited for the replacement of these original fagas. Brilliant invention!"
--Helen, Minneapolis, MN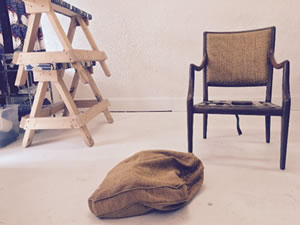 ---
"To all - I myself am extremely happy I can order clips that work for my chair. Be happy that someone has taken the time to design and manufacture these for us so we don't have to go searching for half-baked solutions. Worth every penny imho. I won't bemoan paying a few bucks for products that help me restore my chair to a useable state. It costs money to design, machine and bring items to market. Lots of companies won't bother to design things they can't sell in the billions. Thanks so much for providing these for purchase and serving the smallish market of mid century collectors… The new product [Evans Clips used with webbing] end up being $2-$3 less per strap [than Fagas Straps] anyway!"
--Kimberly D
---
"I recently purchased a set of Evans clips and some poly strapping for my mid century modern platform rocker. I would just like to say that I am very pleased with your product. As well as being less expensive than Fagas straps, Evans clips allow for firmness adjustment with some trial and error (I bought a few extra for testing). Thank you for allowing me to bring my favorite chair back to life."
--Alfred K
---
"I received the webbing and clips yesterday and fixed my chairs in about 30 minutes. It was so easy – even a Girl can do it ?. Do you have an Instagram page? If so, I am going to tag you in my post telling everyone how great your product is."
-Annette S
---
"Thanks to Evans Co for the Fagas straps and for still being there for the necessary parts."
-David A
---
"I just want to say thank you for your service and the straps. It was a perfect fit. My chair has been in my family for over 50 years and was just restored by just sanding and using antique oil. The straps fit perfectly. They don't make furniture like this anymore and I am so thankful that your company continues to sell the straps."
-Helene G
---
"Hi, I thought you might like to see what we've done with the Fagas Straps that we purchased from your company. They fit perfectly on our new (old) chair. Thanks so much for a great product."
Nikki & James, Tucson, AZ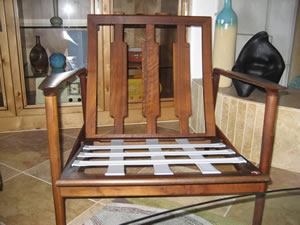 ---
"Wow! That was quick (thank you). And, the chairs feel like never before. What a difference. They are even better. They are the most stylish and comfortable chairs I have ever had… The ones on before were stapled on and did not give the proper support."
-Kevin 7/2010
---
"I installed the straps as per your instructions and ..... oila! See the happy man in the coveted chair!"
-Duff 2/2010
---
"Evans family,
Just wanted to say thanks for the superfast shipping on the 7 #425 fagas straps that I ordered late last week. I received them yesterday 9/13 and couldn't believe how quickly they were delivered. I'll let you know when I need more."
-Thanks again, Tim ("satisfied customer")
---
"Thank you SO much for your quick reply! I'll have to re-assemble the frame first...and it needs a minor dowel repair...but once I have I'll send you pictures. It may be a few weeks. But I know exactly where to order the straps now. I'm ever-so-pleased!"
-Melanie
---
"Hallelujah! You're still doing the straps!"
- Diet, Hamburg, Germany
---
"Just wanted to let you know that the straps came yesterday and worked absolutely perfect. Mom was thrilled and has her favorite rocker back!!"
- Connie, Rochester, NY
---
"I just want to say thank you for your service and the straps. It was a perfect fit."
- Helene, Tuscon, AZ
---
"Wow, your Evans Clips Patented and webbing work beautifully! They have a lower profile than the Fagas Straps and they look like they will last much longer! Thank you for serving our needs.
- Sally, Coronado, CA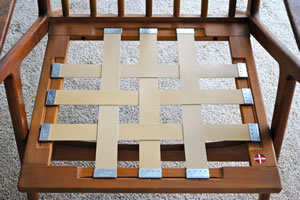 ---